Extra Extra

Ray Robinson Honored by Polish Academy of Music
WEST PALM BEACH, FLA. — Ray Robinson, distinguished senior professor of music at Palm Beach Atlantic University, was honored recently by the Academy of Music in Krakow (Poland) in recognition of his three-decade long association with the institution and its educational program.
The citation reads: "The Senate of the Academy of Music in Krakow, at the assembly meeting held on February 6, 2007, decided unanimously to grant the medal of merit PRO BENIGNITATE to Professor Ray Robinson in recognition of his exceptional contribution toward the Academy of Music in Krakow in the form of funding the Excellence in Teaching Prize, help in establishing and expanding contacts with respective American universities, years long promotion of Polish music to the world, and a special concern to further the development of the Academy of Music in Krakow, as one of its most trusted friends."
The medal was awarded at the annual inauguration ceremony marking the opening of the new academic year at the Jagiellonian University. The award was presented by Professor Stanislaw Krawczynski, Rector of the Academy.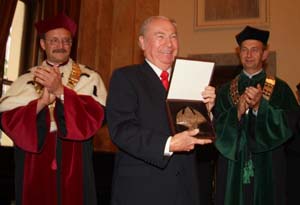 Dr. Robinson began his interest in and study of Polish music in 1977, when he was president of Westminster Choir College in Princeton, N.J., a post he held from 1969 to 1987. Dr. Robinson, along with Philip Nelson, dean of the Yale University School of Music at the time, brought the musical resources of their two institutions together for a concert of the works of the contemporary composer Krzysztof Penderecki at New York's Carnegie Hall on March 2, 1977. Following the event, Professor Robinson was invited to Poland by Maestro Penderecki and thus began a 30-year odyssey with Polish music and institutions that has resulted in three books on the composer, numerous scholarly articles, a tour of Poland with the Palm Beach Atlantic University Concert Choir, and papers read at symposia in Eugene (Oregon), Houston (Texas), Krakow (Poland) and Leipzig (Germany).
Dr. Robinson, who is celebrating his 50th year of teaching this fall, presently is authoring a book on the composer titled "A Penderecki Lexikon."
Dr. Robinson is a native of California's San Francisco Bay Area where he studied violin as a child and viola and conducting at San Jose State University. His masters and doctoral degrees, also in conducting and viola, were earned at the famed Indiana University School of Music in Bloomington, Ind. Following appointments at the Peabody Conservatory of Music and Westminster Choir College, Dr. Robinson joined the faculty of Palm Beach Atlantic University in 1989 where he founded the Oratorio Chorus in 1990. Dr. Robinson's conducting career has taken him to Austria, Germany, Great Britain, Poland, Romania and the Ukraine where he has performed a variety of literature for choir and orchestra. In 2004, he was named music director of the Palm Beach Symphony.
Palm Beach Atlantic University is a private, independent university offering undergraduate, graduate and professional degrees, with campuses in West Palm Beach, Orlando and Wellington. The University is dedicated to the integration of Christian principles to prepare students for learning, leadership and service.
Click
here
to return to page containing Ray Robinson's biography

Distinguished PBA music teacher has followed his passion, note for note
By BY BILL DIPAOLO
Palm Beach Post Staff Writer
Wednesday, November 07, 2007
After 50 years of teaching music, Ray Robinson has no intention of stopping now. "I'm a very lucky person. I have been doing what I love my whole life," said Robinson. "I've always wanted to teach and play music." 'There's some people out there who are counting the days until they retire. Not me,' said Palm Beach Atlantic University music professor Ray Robinson.
The 74-year-old has been teaching at Palm Beach Atlantic University, where he holds the title of senior distinguished professor, since 1989. An accomplished viola player, he also is the conductor of the Palm Beach Symphony. In his spare time, he's a die-hard Red Sox fan, likes to play golf and listen to country music. He and his wife Ruth have been to Europe about 100 times.
"There are some people out there who are counting the days until they retire. Not me," the California native said. "Music challenges you to work hard. I like that."
Robinson is a smallish man with a ready handshake and a deep, smooth voice. His hands move gracefully as he speaks, as if he's conducting verbs and nouns to create a conversation. "I wanted to play drums as a kid. I wanted to be like Gene Krupa," Robinson said, referring to the legendary jazz drummer known for his bombastic style. "But the teacher told me if I played the violin I could get a place in the orchestra. So I played the violin. Later, I switched to the viola."
Playing the viola turned out to be a passion for Robinson. A viola is a little bigger than a violin and is played in everything from country ballads by Merle Haggard to symphonies by Franz Joseph Haydn. "There's no frets like on the guitar," Robinson explained. "You have to play the viola by ear. It's an innate ability, something you cannot learn. You have to have a passion." It's that passion that makes Robinson an excellent teacher, said PBA senior Ivan Cerda, who plays the trumpet. Cerda, a Clewiston resident, is taking Robinson's Christianity and the Arts class. Robinson's music experiences in Europe's historic churches and concert halls give students a vivid understanding of how music has evolved, he said.
"He'll explain how part of the choir stood here, another part stood there. In historic times, that was their version of stereo," said Cerda, 22. "He's opened my eyes to the importance of traveling abroad to learn more about music." Teaching, playing and promoting music have all been a part of Robinson's life. He has master's and doctoral degrees in music from Indiana University. He was a music critic for the Baltimore Evening Sun.
Robinson, a West Palm Beach resident, has written about 10 books on music and he established an endowment at the Krakow Academy of Music in Poland. He hosted two weekly television music programs while he was dean of the Peabody Conservatory of Music of The Johns Hopkins University in Baltimore. He and Ruth hosted conductor Leonard Bernstein at their house for dinner in 1976. "When he came out of our bathroom, he told Ruth and I we had something in common. He said we both had yellow toilet seats," said Robinson. "And yes, we called him maestro." Robinson and Ruth, who teaches art at PBA, have been married 53 years and have one daughter, four sons and 12 grandchildren. Robinson often remembers the music teachers he had who made such an important difference in his life. There was a Mr. Jenkins, who used to drive him home from orchestra practice at Campbell High School in San Jose. "We were sitting in the car, and he said, 'You'll make a big mistake if you do not go into music.' I was a kid. I liked sports. My father was a railroad worker. I never dreamed of music as a career," said Robinson. "I was lucky to have such motivational teachers."
Click
here
to return to page containing Ray Robinson's biography