L

If they're not here, we're still waiting for them to check in.

Bryan Lambert, lives with his wife, Barbara in Toccoa, GA (Dec 2007) We need more information, Bryan

John Lambert
, lives with his wife, Kate in Concrete, WA (Dec 2007)
We need more information, John

Gene Lawler, lives with his wife, Joan, on Cordilleras Rd. Emerald Hills, CA 94062-3308 Email: joanlawler123@sbcglobal.net (update May 2005) After graduating from high school I worked on our ranch until 1952; then applied for a job at Westinghouse in Sunnyvale as a machinist's helper. After three months, I was upgraded to a machinist specialist and then became a journeyman machinist for the next two and a half years. On February 14, 1955, I applied for a job with United Airlines as a mechanic on the Convair 340, DC-4''s, DC6 and DC6B and DC7 aircraft. During these six years of slinging a wrench I was taking classes at San Mateo College to obtain my AIRFRAME & POWER PLANT licenses as well as management classes. I was promoted to Maintenance Foreman around 1966 on B-720 and DC-8 jet aircraft. In 1980, I was promoted to Operating Manager which included the Maintenance Base, SFO Line Maintenance and Oakland Maintenance Base. I retired on February 14, 1993 (after 38 years). My wife, Joan was a stewardess for United and I met her at an SFO gate. After our marriage, Joan worked for seventeen years for Krebs Engineering in Menlo Park. We have been married forty-four years and have two grown sons. One son is married and we have a six year old granddaughter named Madison. Madison and her family live in Sunriver, OR. Our older son lives in San Francisco. I have many hobbies - archery hunting, fishing, gardening, cooking, antiquing, traveling and most of all, working at staying healthy. (Oct 2002) Am still above ground and keeping active. Am in an exercise class five days a week and still have lots of hobbies including cooking, gardening, making wine and processing olives to name a few. My wife and I travel quite a bit and in the past few months have been on a Caribbean cruise and a Mexican cruise with our family. Most important thing on the calendar is staying well. (update May 2005) I have acquired another hobby since last writing - wine making. I am into it with three other fellows and enjoying myself. We picked a ton each of chardonnet, shiraz and cabernet grapes, processed them and they are now in French oak barrels aging. My wife and I also went up to Corning and picked 200 lbs of olives which I processed and we canned. This is a holiday gift to family and friends. Health wise we are both doing well and enjoying life. (update Oct 2005)

Lillian La Corte (Cefalu), has lived with her husband, Sam, at 1712 Dorrance Drive, San Jose, CA 95125 since 1964. She married her childhood neighbor, Sam Cefalu, in 1952. Lillian and Sam have three children, Marie, Annette and Salvador and are grandparents to Vince, Michael, Danny and Steven. They will be celebrating their 50th wedding anniversary on October 19, 2002. Born and raised on a ranch on Luther Ave. in San Jose, Lillian worked alongside her sisters and brothers picking prunes and cutting apricots. She worked at neighborhood ranches as well. After high school graduation she worked for three years as a bookkeeper for Wells Fargo Bank, ( then called American Trust) in downtown San Jose. Lillian retired and became a homemaker and mother living on an apricot orchard in Campbell, CA. They lived there for 12 years before moving to the Willow Glen Area - just two miles from where her childhood home once stood. Fond memories of high school days include attending football games and having lunch at the 5 Spot. (Aug 2002)

Louise Ladner (Shoemaker), lives on South Burke Street, Visalia, CA 93292 Email: Rdrtamlst@aol.com I was married June 15, 1950 to Warren Alcott Shoemaker. We traveled abroad from December 1951 to December 1961. (Venezuela and Germany) We adopted a Venezuelan baby girl, Vicky, in 1955. Louis was born in 1958. We returned to the USA and I returned to school to complete my BA degree; then one year dietetic internship at UCSF medical school followed by a masters degree in Food and Nutrition. Since then, I have become certified in diabetes education working with Hispanics. (Miss. Mendoza, I am sure would find much wrong with my Spanish ... Ya ESTA!) Although long beyond retirement, I am still employed (professional demand... and no supply) so why not reap the benefit of my education. My husband, after almost 50 years of marriage, decided, on Easter Sunday 2000, that heaven looked better than earth. I now share room and board with a grandson (aged 19). Life IS good and I am looking forward to meeting some classmates from the past. (Yes, my hair is still naturally blonde with a touch of gray.) (Jan 2003)

Harold Layman, lives with his wife, Lois, on Adams Lane, Redding, CA 96002 E-mail:ugoval@hotmail.com (Jan 2002) We need more information, Hal

Bill Lester, lives at 790 Park Place, Arcata, CA 95521 E-mail: wll2@humboldt.edu (Mar 2007) I did my graduate work at U. of California, Davis and taught and did research at the Vet School for five years. I then became Associate Director of Research with Cutter Laboratories in Berkeley followed by a return to academia where I developed the Medical Technology program and have been a professor, now emeritus, of Medical Microbiology at Humboldt State University. After thirty-three years, I am down to my last year of teaching. I am recently divorced so unmarried. I have had a total of six children, four of whom are still living. I have a total of six grandchildren and just became a great grandfather to a baby boy. I live in McKinleyville which is a small bedroom community north of Arcata which is where the University is located. I lived in Bayside for many years and in addition to teaching, raised sheep and Arabian horses and enjoyed the life of a small rancher. I haven't any info on anyone else in the class since I joined the Army soon after graduation from HS and left the area for three years. Graduated from SJS and haven't been back in 30 years +++. Drop me a line if you get a chance. (Sep 2002) Ellen and I have just married and now live in Arcata which is a small college town in northern California. I am fully retired now and enjoying the concept of not going to work and teaching anymore. Actually, I will miss the students and teaching but not all of the other hassles. (update May 2005)


Douglas Lincoln
, deceased Oct 6, 2002 (Apr 2003)

Paul Lipari, lives on Amherst Lane, San Jose, Ca. 95117-3010 E-mail: pjlsr32@sbcglobal.net (Update Jun 2005) After HS, I attended SJSU and I'm still an active member of the Spartan Foundation. Then I spent two years in the US ARMY stationed in Baumholder, West Germany for 18 months. I got married Oct. '67 to Patricia (Patty) Romano who attended Lincoln HS. We have two children: our daughter Roseanne is married with two children; a daughter named Audrey and a son named Ryan. She graduated from UC Davis and currently is a housewife. Our son Paul Jr. is single and employed by IBM (now Hitachi). He graduated from SJSU. I retired from IBM Nov '91 and retired again Dec '96 from Siemens Corp. Patty retired from SBC (Pacific Bell) Dec '96. Our family likes to travel--primarily cruising. Our children traveled with us until the early 20's. Now we take family vacations once or twice a year. Paul and Patty took a three and a half month around the World Cruise in year 2000 -- OUTSTANDING ! As far as the world is concerned, we put much "have been there and did that". Now we spend our time enjoying our grandchildren, managing our Real Estate Investments mixed with travel within the good old USA. Looking forward to seeing my 1950 classmates at our June 2003 reunion. (Jan 2003)

Leroy Little
, lives on Zaton Ave., San Jose, CA 95117(Aug 2002)
We need more information, Leroy

Franklin Lobrovich, lives on S. Cleek Drive, Tucson, AZ 85739 I recently turned 70 and am doing fine and living in a beautiful retirement community. (Mar 2003)

Ignacio (Nash) Lopez
, lives with his wife, Maeva, at 15 Montour Street, Imperial, PA 15126. E-mail: mjnl@verizon.net Joined the Air Force 1951-1955. Served in the Far east during the Korean war and some time in Europe. Attended Northrop Aero Institute Inglewood, Ca. for an aircraft maintenance certificate and ran into Harry Fish and do not know whatever happened to him after that. He went for an engineering degree in aerospace. I worked for United Airlines until 1966 and changed jobs for adventure and went with Air America and Spent 6 years working In and out of Viet Nam till 1972 living in the Philippines and Japan. Since then we have lived In New Jersey, Long Island, Texas, Chico, Ca. and now near the Pittsburgh airport In Pa. since 1984. Retired from USAirways in 1999 and have two grownup children, Michael who lives in Atlanta and Carlotta who resides in Tampa, Fl. five grandchildren. I have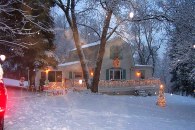 one daughter Sheila from my first marriage, three grandsons and two great grand daughters, all from San Jose except for grandson attending San Diego State. We live in an old farmhouse and anyone is welcome to come and visit and stay with us anytime . My wife knows where all the interesting things to see are located. We do dabble with a small aircraft tooling business from time to time but Sept. 11 put a big dent along with the only reunion we were going to attend. Hope to hear from someone soon. (Jun 2002)
This is picture of what our house here in Pennsylvania has looked like during the past few months. You can see how cold it has been. (Feb 2003).


Robert Loveday
, deceased Sep 25, 1990 (Dec 2002)
Can anyone add any details?

Marlyn Luther (Barrett), lives on Cheese Factory Road, Bonanza, OR 97623. Email: marlynkb@msn.com. I was born in Corvallis, OR. I lived in Montana, Corning (CA), Santa Rosa, Napa and finally moved to San Jose when I was ready to start high school the fall of 1946. Richard and I were married in January 1952. We lived on his grandfather's small "ranch" for the next twelve years. During that time he was a county fireman. On his days off, he shod horses and started to add onto the amount of cattle we had. In 1965, we decided to make the big move to Bonanza, OR., population 300. We had bought 160 acres in 1959 with hopes of moving up there sometime. We moved to the Langell Valley, ten miles south of Bonanza and 30 miles SE of Klammath Falls. He still shod horses for the next five years. We spent a lot of time fixing up the old place; new fencing, barns, shop, etc. During the next 30 years, we expanded our operations and bought two other ranches close by and made one our headquarters where we process cattle, store and make feed for cattle. After they are conditioned, we send them to Nebraska, Colorado and Kansas to the feed lots. When ready to butcher, we sell them from there. Our son, Glenn, worked for a few years in Klammath Falls, then bought his own place and went into partnership with his dad. Together, they were able to enlarge the original operation and process double the number of cattle. My husband, Richard, passed away in March 2000 doing what he loved best; feeding and checking on the cattle. Since then, Glenn and one of our grandsons have taken over the care of the cattle and ranches. Our oldest daughter, Karen, lives 110 miles over the Cascade Mountains in Medford. She is a surgical tech at Rogue Valley Hospital. Her husband owns three businesses; all related to the lumber industry. They have four kids. Our daughter, Linda, lives five miles further south from my place. They ranch. She has four kids. Two are still in elementary school and two have graduated, married and one has two little girls. Her oldest boy is the one that takes care of the ranch with Glenn's help. Glenn, his wife and two small boys live three miles north of my place. He is my youngest. He takes his place in working the ranch. He is also the one who takes on the politicians and water issues. Linda's husband does too. The three kids all graduated from Bonanza HS and went to college. They all graduated from classes that had 23 to 40 kids. It is still a small school; around 400 in the high school. You requested information on hobbies, etc. I have been sewing and quilting since high school. I have done my share of hobbies, wallpapering, needlework, upholstering and so on. Rich and I toured quite a bit in the West and Southwest. I did forget to mention my step grandson (Frank and Linda's), his wife and little boy, Clayton. To recap, I have one boy, two girls, eleven grandchildren and thee great-grandchildren. I have seen many changes here in the valley in 38 years and yet it is still a ranching community with very friendly people. (MAR 2003)
See something wrong? Want to add something?
Send email to:
Class1950@gmail.com