IJK

If they're not here, we're still waiting for them to check in.

George Ingram, lives with his wife, Nancy, on Lupine Valley Road, Aptos, CA 95003 (Jul 2002) We need much more information about you, George.

Nueme Jardin (Long), lives on Pandora Drive, San Jose, CA 95124. E-mail: nuemel@sbcglobal.net
I married one year after high school and raised five children. I have twelve grandchildren. I retired from Macy's last year and am now taking it easy. (Aug 2002) I'm retired from Macys and enjoying staying home. I babysit my new grandson twice a week..He's my thirteenth grandchild..I have five adult children and 13 granchildren...so I've been quite busy...My life is full!I do look forward to our luncheons. (Nov 2005)

Jolly Jones,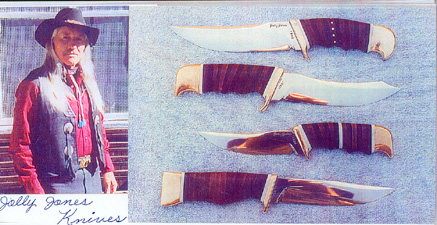 The inscription on the back of the picture reads, "To whom ever wants this; this is what I sometimes look like" and it is signed Jolly B. Jones who's address is P. O. Box 714, Jasper, AR 72641. In response to our questionnaire item, nickname, Jolly replied, "I didn't need one". He goes on to state that he has two children, a boy and a girl, six grandchildren and five great-grand children. In 1950, I married LaVerne McCracken (class of '51 ??) After a short stint in the Merchant Marines, in 1954 I was employed by Western Gravel Co. in Campbell and was a teamster for 35 years. I started making hunting knives in 1960. One dated March 6, 1966 is displayed in the LBJ Library, Austin, TX. LaVerne and I divorced in 1973. I married again and again and again and again and again; total of five, I believe. I started writing poetry early in life and had a book of poetry published in 1987. I retired in Feb. 1989 and moved to Arkansas. I joined "All Arkansas Bail Bonds" in 1992 after running for Newton county sheriff. After losing the race, I put an ad in the paper which read, "Since you folks don't want me to put 'em in, then I'll just get 'em out". I was a bounty hunter for eight years and had a few touchy situations before giving it up. I started driving tour bus in Glacier Nat. Park in 1995; drove there for four seasons ('95,'96,'97 & '99). I was Winterkeeper at Lake McDonald Lodge the winter of '96 and '97. I thought of "The Shining" while there. I built my own log cabin - falling the trees myself and working on it in my spare time. I started it in 1990 and completed it in 1999. It was built entirely by me. I've been "batching" since 1987 except for "playing house" now and then and loving it !! I am still making knives and am now up to 328 completed. I am having another book of poetry printed in the future. To date, I have written 230 poems. (recent update follows) In addition to what I sent you already, I decided to include a little more about myself. I've hunted and trapped a lot and have several pelts hanging throughout my home; mostly skunk hides. Twenty years ago, I became a charter member of a club called "Wiffys". It's for those who enjoy the smell of a skunk. I tan the hides myself. I've had many auto accidents in my time. I've turned over six different cars and had one serious wreck on a motorcycle and a motorscooter. I've suffered many stiches and broken bones. On my motorcycle, I've ridden into Canada and all over the U.S.A. east to west. In 1993, I attended a Sundance ceremony put on each year on the Blood Indian Reservation in Canada. I was one of three white people there. Also in 1995 I attended again and spent the night there with my friends whom I had met in 1993. Although I'm quarter Cherokee, I felt totally white among all those Bloods. I received my G.E.D. here in Arkansas in 1994. Much more must remain unreported. (Dec 2002) Jolly checked the box that indicates that he would attend a reunion.

Beverly Justice
, deceased.
Does anyone have any further information about Beverly?
(Nov 2002)

Charles Kerby, lives with his wife, Irene, on La Cumbra Circle in Rancho Cordova, CA 95670. E-mail:ckerby532@aol.com. After I left high school I worked around San Jose until March of 1951. I joined the army, and was shipped overseas to Hawaii. I took my basic training there. After that, I had the option to go to NCO school or remain in Hawaii as a DI. I chose Hawaii. I was the 2nd Platoon Sgt. for the 62nd Company. As we were going through their training I was caught in the backblast of a 3.5 bazooka and had to stay in Trippler Hospital in Hawaii. After that I was not physically able to remain a DI. I joined the MPs. I went through eight weeks of training and then four weeks of Advanced Military Police Training. From there I was assigned Hawaii Armed Service Police (HASP)in Honolulu. Later I was assigned to Schoffield Barracks to main gate duty. While on duty with Lt. General Daniels, who was commander of the U.S. Army Southern Pacific (USASP), I was asked by him to TDY as his driver for one month while his driver was on leave. I met my wife in September of ''53 and we were married in December. I returned to the states in 1954 and bought a home in Santa Clara. I then became a motorcycle police officer for one year. After I was a truck driver for seven years. Then for one year I became a door-to-door salesmen, selling sewing machines. I had my own janitorial service for three years. Then I went back to driving trucks for another seven years. I then went to work for Magnunson Engineers in San Jose. I was with the company for fourteen years as operational manager. At the age of 53 I had a heart attack and was forced to retire. We moved to Sacramento, as my wife was with the Intel Corporation. After forty-six years I lost my wife. I remarried a year and a half later and remain here in Sacramento. My wife and I enjoy camping. I have a twenty-four foot fifth wheel. Right now I am satisfied with my life, present and past. I have enjoyed many occupations. If I had to relive my life, I wouldn't change anything, as God has been good to me and my family. I have a daughter and two grand kids, Aimee, 13 and Nick, 17. My hobbies are woodworking in the garage, reading and fishing with my old army buddy in the Delta. (Jan 2003)

Bill Kincaid, lives on Indianwood Dr., Redding CA 96001 (Jan 2003) We need more information, Bill.


Chuck Kuhlmann
, deceased. Chuck served in the US Air Force after graduating from CUHS and before attending SJSC. In 1959, he married Carol Bohnett (CUHS class of '52) and moved to Oroville, CA where they owned and operated several retail businesses. In addition to being a successful businessman, Chuck raced unlimited hydroplanes for several years and was an avid hunter (ducks, geese and pheasant). Both he and Carol were accomplished water skiers. Even though Chuck was enjoying apparent good health and was playing city league basketball, he died suddenly in 1979 at the age of 46 of a heart attack. His death occurred just a few days short of their 20th wedding anniversary. Chuck and Carol had no children. (Aug 2002)

Ed Kumagai, lives on Middle Park Drive, San Jose, CA 95135 (Feb 2003) We need more information, Ed.


Charlene Kuykendall
, deceased circa 1966 from cancer.
Can anyone tell us more about Charlene?
See something wrong? Want to add something?
Send email to:
Class1950@gmail.com