DEF

If they're not here, we're still waiting for them to check in.


Diane Davidson (Shannon)
, deceased due to cancer prior to 1998. At that time, Diane was living with her husband, Ron, in Hawaii. (Dec 2002)

Joyce D'Avis (Ellis), lives with her husband, Bill, on Fickle Hill Rd., Arcata, CA 95521 We were married in 1951, have four children and nine grandchildren. We are living in Northern California in the house we built in 1955. Bill is a retired teacher and school administrator. He is also a building contractor and I handle the books for our small business (Feb 2003)


Ronnie Diaz
, deceased due to a cave-in accident. Ronnie left the class early to join the service. (Jan 2003)

David Doerr, lives with his wife, Elaine, near Sacramento, CA. E-mail: dave@caltax.org. We have two children (boy and a girl) and six grandchildren. I received B.A. and M.A. degrees from San Jose State and I did additional graduate work at Cal, Berkeley. After a two year stint (1956 - 1958) in the US Army at Ft. Lewis, WA., I taught at Campbell High for one year ('58 - '59) before I was selected among graduate students to participate in the Ford Foundation internship with the California State Legislature for 1959-60. After the internship, I thought I would go back to teach at Campbell, but was asked to stay on as a committee consultant and I stayed for 28 years as a chief consultant to the Assembly, principally to the Revenue and Taxation Committee. In that capacity, I developed most of the current tax laws on the books. I was a member of the San Juan Unified School District (suburban Sacramento) school board from 1975 through 1981. I am currently on the President's advisory board for Sacramento State University. In 1987, I moved across the street to become Chief Tax Consultant, California Taxpayers' Association. In this position, I do some lobbying before legislative committees on behalf of taxpayers and put out a weekly Newsletter with my colleague Ron Roach. I have also just written a book entitled "California's Tax Machine." (Aug 2002)

Audry DuMont, born 26 Mar 1930 in California, deceased 7 Mar 2001 in Santa Clara. Note: This record is for Mary DuMont. Our classmate was Mary Audry DuMont. Can anyone add any details?

Barbara Ehrsam (Anderson),
lives on Cumnor Ave., Glen Ellyn, IL 60137 Email:
anderson_family@msn.com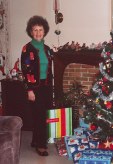 I was married 42 years. Andy deceased in 1996. I have twin grandchildren, aged thirteen. They live in Colorado. Andy was Director of National Accounts for Keebler Company and worked his way up the ladder for 36 years. I still correspond with Marlyn Luther (Barret) and wonder what happened to Jackie Lekang. We have traveled often, England being our favorite for history. I worked for Commercial Credit before marriage and retired to raise three children. Then I worked for Mabelline for nine years before retiring in 1990. My sons live here in Illinois. 'Sorry I can not attend the reunion. Give my regards to all. (Jan 2003) One of my sons, Brian, is in the computer business (Nov 2007)
This photo is dated Christmas 2002

Eldon "Tom" Ellis, lives with his wife on Royal Avenue, Eugene, OR 97402. I joined the navy on July 5, 1950. I met my wife in Van Nuys and was married in 1954. We raised four girls while residing in San Francisco and then in Simi Valley. They are all married and we have seven grandkids; the youngest is 17. We moved to Oregon 30 years ago to join family. I have been a tool grinder all of my working years. I retired from my own business in 1999. I am extremely grateful for good health; no medicines, etc. It still blows my mind to hear from someone of our "vintage". 'Hope to hear from you again. (Oct 2005)


Dan Estrada
, deceased Feb 29, 2000 in Chico, CA.
Can anyone add any details?


Lucille Ely (Ivie)
, lives with her husband, Marvin, on Meadowbrook Road, Ojai, CA 93023. Email: ojaimarvlu@aol.com. I have three boys plus one stepson, one daughter, nine grandchildren and one great-grandchild. I attended San Jose State College 1950 -1952 where I met and married Tom Evans. We lived in Spartan Village through 1954 where our first two sons, Robert and Doug, were born. After Tom's graduation, we moved to Ventura where he taught and I was a stay-at-home mom. Our daughter, Alaire was born in 1956 and our third son, James was born in 1961. I went back to school in 1967 and received my nursing degree in 1969. Tom and I divorced in 1968. I began my nursing career in Ventura and then in Ojai where I was Manager/Nurse in Obstetrics/Nursery for ten years. I met and married Marvin Ivie in 1970. He had one son and worked for State Workman's Compensation Insurance. He retired in 1994. I had resigned from my position as Nurse/Manager but continued to work in Obstetrics for another 16 years. I retired in 1998. I now work at a health spa 4-16 hours a week in the nursing office where I meet a lot of fun and interesting people. We travel a lot, take lots of cruises and have traveled several times to Europe. I always did a lot of aerobics, walking and knitting but I developed osteoporosis resulting in a hip replacement, bad back and pelvic stress fractures so I am now limited to mainly walking for exercise. I am looking forward to a reunion. (Aug 2002) Lucille Ely (Ivie) passed away on September 17th following complication from surgery. Services were held in Ojai, CA. (Oct 2005)

Arlene Fellman (Perusina), lives with her husband, Dan, on Kirk Rd, San Jose, CA 95124 I was married in December 1951 in Honolulu, Hawaii and lived there two years. We had two boys (one is deceased), a girl and three grandchildren. My husband farmed when he got out of the Navy. I worked the different crops that we had until we retired. We have lived in out home in San Jose for 45 years. (Jan 2003) Feel free to email me at aperusina@sbcglobal.net (Jul 2003)

Lois Fender (Everhart), lives with her hunband, Bill, in Fishtail, MT 59028 (Jan 2003)) We need more information, Lois.

Harry Fish, lives on Bonnie Lane, Hollister, CA 95023 (Feb 2003) We need more information, Harry.

Diane Ford (McGowen), lives with husband, Edward (CUHS '49) on Las Astas Dr, Los Gatos, CA 95032 (Mar 2003) We need more information, Diane.

Janet Franceschini (Shriner), lives in San Jose, CA. (Apr 2002) We need more information, Janet.

Harold 'Buzz' Freitas, lives with his wife, Maureen, at 417 E. Pinewood Ave., Seward, NE 68434. We have one boy, three girls and 12 grandchildren. I lived in Los Gatos for 35 years. I owned a liquor store on Union Ave in San Jose, for 32 years. 'Served as state president of the Liquor Dealers Assoc. of California. I worked for Smythe Buick in Santa Clara for eight years in the sales and leasing department. My future wife, Maureen, also worked in Sales in charge of inventory control when we met. In October '97, we were married in Clarks, NE - her family lived there. In early '98 Smythe sold their dealership and I decided to retire - and we decided to move to Nebraska - which happened in Aug of '98. We are certainly enjoying the great life here. It is a slower pace, no traffic jams and very friendly people. The population is around 6,500. It's an old fashioned town - many stores with original store fronts. We also have new stores - i.e. McDonalds and Walmart. The country club is only two minutes from our house and yes, I 'm playing either nine or 18 holes almost every day (18 holes in 3.5 hours!). Maureen is in her second year of league bowling. Seward has a bowling alley - it really is a popular sport out here, especially in the Winter. We're about 24 miles from the big city of Lincoln; home of the "Big Red". We are Nebraska fans but who in this state isn't a fan? Red and black is a big part of our wardrobe now. (Oct 2002)
See something wrong? Want to add something?
Send email to:
Class1950@gmail.com