History

Old Campbell High School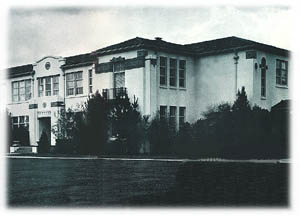 Although it's not as loaded with historical homes and buildings as some of its neighbors--Los Gatos, as one example--Campbell does have a few buildings that boast architecture of which to be proud. According to readers, the best one is what was once known as Campbell Union High School at 1 W. Campbell Ave. It closed in 1980 and is now home to the Campbell Community Center, whose indoor rooms and outdoor sports field serve as meeting venues for a large number of clubs, organizations and sporting groups.
The old high school, whose first principal was one Professor J. Fred Smith, is an attractive example of Spanish Revival architecture, designed by William H. Weeks, a local architect who also worked on the Santa Cruz Beach Boardwalk. Because it's set well back from the street, admirers walking by can take in a more expansive view of the edifice, without having to look up.
Another distinctive attribute of the building is the line of decorative colored tile, for which the school had Albert Solon and Frank P. Schemmel to thank. Also local entrepreneurs, they were the founders of S & S Wall and Floor Tiles.
Source: The Campbell Reporter
More History of Campbell High School
A hundred years ago, Campbell was a small farm town surrounded by orchards and open fields. A town government had been formed, but the city was still a half century away from formal incorporation. The town also had a high school district that is now celebrating its centennial year. Before the district existed, most students did not continue their education past the middle school level. Those that did were forced to travel long distances to high schools, since there were none in the immediate area.
When Campbell High School opened on Sept. 14, 1900, there were 35 students: 23 girls and 12 boys, according to Campbell: The Orchard City by Jeanette Watson. The school was located on the second floor of Campbell Grammar School and there were only three teachers responsible for educating the children.
The first graduating class consisted of one student, Charles Beardsley. Beardsley helped the district establish itself as a serious academic institution, and continued his education at Stanford. This was no small accomplishment, as it meant Campbell High School had been recognized as an accredited school capable of producing top students. Beardsley eventually became a lawyer and went on to serve as president of the California Bar Association and, later, of the American Bar Association.
By 1903, the small quarters above the grammar school were beginning to feel a little confining, and Campbell High School Principal J. Fred Smith set his sights on a new building for the high school. The site he selected was at the southeast corner of what is now Campbell Avenue and Winchester Boulevard.
To call attention to the need for a new high school, Smith convinced President Theodore Roosevelt to visit the site and plant a redwood tree on the potential school grounds. The shovel Roosevelt used, which is engraved with his name and the date, is one of the items on display at the historical museum.
Smith must have made a convincing case, because only one year later, the school was built and students began attending classes. Parking wasn't an issue for the new school, which had a horse shed out back to house the student's transportation.
Over the next 30 years, as student enrollment swelled, the new school building began to seem too small. The district began looking for a new building as early as 1927, and in 1936, a new building, located at the northwest corner of Campbell and Winchester and the current site of Campbell Community Center, was built.
Source: Web site of the CUHS Class of 1970 www.chs70.bappy.com
About Campbell
Located about 50 miles south of San Francisco, Campbell is a city whose nickname is the "Orchard City." Campbell has a historic downtown as well as many new and modem buildings.
Campbell began when Benjamin Campbell came west in 1846 and brought his family. His father is noted for having surveyed the cities of San Jose and Santa Clara, and for starting a sawmill near the town of Saratoga. In 1851, Benjamin bought 160 acres and planted it with hay and grain. The area of land became later known Campbell's historical downtown area.
In 1878, Benjamin gave an acre of his land the railroad and by 1877, the first subdivision had taken place where the Water Tower Plaza now stands. The area became the center for shipping fruit and the canneries made Campbell an important stop on the railroad. Campbell was mostly well known for its prunes and apricots. The name "Sunsweet"' was first used in reference to a local plant that processed dried fruit. The Campbell Fruit Growers Union had a seventeen-acre drying yard that helped the Campbell become even more popular. The J.C. Ainsley Packing Company was a big company that was a cannery that shipped high quality Fruit to England. With all the industry, the area needed a bank, so in 1895, the Bank of Campbell was established at the corner of Campbell and Central Avenues.
In 1903, President Theodore Roosevelt visited Campbell at the request of the principal of Campbell Union High School. While he was here, President Roosevelt planted a redwood tree on the high school grounds.
Campbell was first known for its churches, which once directed town life. Later the Board of Trade became the leading community service which later became the Campbell of Chamber of Commerce. In the 1940's the last remaining orchards were built on to make room for the large numbers of people who were moving to the area. The Pruneyard Shopping Center is a reference to remember the city in years past.
Campbell became officially incorporated as a city in 1952 and has a council-manager type of government. Campbell offers fifteen parks, community center, year-round pool, a city museum, a bike trail along the creek, summer day camps, and an annual Prune Festival.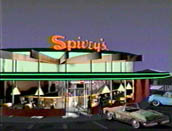 Remember Spivey's 5-Spot Drive-In near the corner of Campbell Avenue and Winchester Road? You went there to meet friends, show off your car and listen to the Hit Parade tunes blaring from the jukebox.
-.-.-.-.-.-.-.-.-.-.-.-.-.-.-.-.-.-.-.-.-.-.-.-.-.-.-.-.-.-.-.-.-.-.-.-.-.-.-.-.-.-.-.-.-.-.-.-.-.-.-.-.-
http://www.campbell.net/history/index.shtml
See above web site for more history of Campbell High School
(but don't forget to come back)
-.-.-.-.-.-.-.-.-.-.-.-.-.-.-.-.-.-.-.-.-.-.-.-.-.-.-.-.-.-.-.-.-.-.-.-.-.-.-.-.-.-.-.-.-.-.-.-.-.-.-.-.-
Comments made in the year 1957: (By this time, you were already seven years out of high school.)
"I'll tell you one thing, if things keep going the way they are, it's going to be impossible to buy a week's groceries for $20."
"Have you seen the new cars coming out next year? It won't be long before $5000 will only buy a used one."
"If cigarettes keep going up in price, I'm going to quit. A quarter a pack is ridiculous."
"Did you hear the post office is thinking about charging a dime just to mail a letter?"
"If they raise the minimum wage to $1, nobody will be able to hire outside help at the store."
"When I first started driving, who would have thought gas would someday cost 29 cents a gallon. Guess we'd be better off leaving the car in the garage."
"Kids today are impossible. Those duck tail hair cuts make it impossible to stay groomed. Next thing you know, boys will be wearing their hair as long as the girls."
"I'm afraid to send my kids to the movies any more. Ever since they let Clark Gable get by with saying 'damn' in 'Gone With The Wind,' it seems every new movie has either "hell" or "damn" in it.
"I read the other day where some scientist thinks it's possible to put a man on the moon by the end of the century. They even have some fellows they call astronauts preparing for it down in Texas."
"Did you see where some baseball player just signed a contract for $75,000 a year just to play ball? It wouldn't surprise me if someday they'll be making more than the president."
"I never thought I'd see the day all our kitchen appliances would be electric. They are even making electric typewriters now."
"It's too bad things are so tough nowadays. I see where a few married women are having to work to make ends meet." "It won't be long before young couples are going to have to hire someone to watch their kids so they can both work."
"Marriage doesn't mean a thing any more; those Hollywood stars seem to be getting divorced at the drop of a hat."
"I'm just afraid the Volkswagen car is going to open the door to a whole lot of foreign business."
"Thank goodness I won't live to see the day when the Government takes half our income in taxes. I sometimes wonder if we are electing the best people to congress."
"The drive-in restaurant is convenient in nice weather, but I seriously doubt they will ever catch on."
"There is no sense going to Lincoln or Omaha anymore for a weekend. It costs nearly $15 a night to stay in a hotel."
"No one can afford to be sick any more; $35 a day in the hospital is too rich for my blood."
"If they think I'll pay 50 cents for a hair cut, forget it."
Have a comment?
Send email to:
Class1950@gmail.com