R

If they're not here, we're still waiting for them to check in.

Carol Raborn
, lives on Miller Ct., Santa Cruz, CA 95065-1217 (Feb 2003)
We need more information, Carol.

Lois Ratledge (Williamson), lives with husband, Joseph ('43), on Robledo Road, Palo Cedro CA 96073. Email: joeandlois47@hotmail.com Joe and I have three boys and three girls, fourteen grandchildren and on great-granddaughter. I was a stay-at-home mom until all our children were in school. Then I went to work as a teacher's aide in the special education classes. We lived in San Jose until 1979 when Joe retired after 30 years as a carpenter and we moved to Palo Cedro to build our retirement home. I enjoy reading, crocheting, embroidering, quilting and working in my rose garden. We enjoy visiting our children and grandchildren, traveling and camping. (Feb 2003)


Larry Reece
, deceased on 28 Sep 2000 in Kern County, CA

Rena Rhoads (Bailey), lives with her husband, Bill, on Corlista Drive in San Jose, CA 95128 Email: renarb@sbcglobal.net We still live in San Jose in our home that we purchased in 1956. We have two children, a daughter and son, and two grandchildren. After working 31 years in banking, I retired in 1990. My husband had retired from the San Jose Police Dept. in 1987. He decided he was not ready for full retirement and went to work as a Seasonal Park Ranger for the National Park Service for twelve seasons. I worked as a volunteer in three of the six parks where he served. In two of the parks, we worked several seasons. We saw some beautiful country, met some great people and enjoyed watching the wild life. My husband retired again after the summer season in 1999. We have done some traveling out of the country as well as the mid-west and the east coast, primarily to visit our children. Our son is a Commander in the Navy and our daughter's husband is a retired Air Force Major. It will be my pleasure to work on the class reunion. I am looking forward to seeing everyone. (Nov 2002)

Herman Rice
, deceased June 22, 1998.
(The following biography was provided by Herman's wife, Vian and step-son, John Gilmore)
Any one acquainted with Herman in his youth would quickly be caught up in his keen interest in building and flying model airplanes. Herman never purchased the model kits. This was too easy and limited his creativity. Herman would buy a handful of this and a handful of that and sit down, using simple geometry, design and build a powered model airplane that would fly like a bird. Herman estimated that he designed, built and flew 500 gas powered model air planes. Herman's family consisted of four sisters and two brothers who were siblings in an old original Campbell Family that purchased 34 aches directly behind Campbell High and on Sunny Oaks. The family successfully grew prunes and apricots. After graduating from Campbell High School Herman enlisted in the U. S. Marine Corps. Herman's goal was to be a Marine Corps fighter pilot. "Hell, if you can build them, you can fly them." In the be beginning of the Korean war, propeller driven planes out-numbered the new jet powered so Herman believed he had a chance. Medical problems got in the way so Herman grabbed the next best thing, Ordnance Specialist assigned to a USMC Air Wing. One of Herman's customers was the legendary Ted William and his F-U4 Corsair requiring a load of bombs and other ordnance. Herman achieved the rank of Sergeant and on the way home, through Hawaii, married a lovely young lady in a little grass skirt and set sail for Campbell. Two strapping boys were soon sporting diapers in the Rice household. Herman settled into a Polynesian way of life including cooking pigs in a deep pit in the back yard. In the next five years Herman's interest, other than his family and job at IBM, were broad and challenging. Herman continued to work on model airplanes only now they were much larger and radio controlled. Some of Herman's other projects were restoring Model A Fords, building a one third scale flyable biplane, a one man flyable gyrocopter and a one-man towcopter. He was also deeply involved in training and flying for sport, birds of prey(Hawks/ Falcons) and finally the project love of his life - Hang Gliders. During this period and for what ever reason the marriage dissolved in divorce and Herman was free to dive into another project of remodeling his kitchen. In the normal cycle of life Herman met and married a lady with class that match her looks, a beauty from the United Kingdom. This marriage increased the family size by two young boys making the Rice family instantly a four boy family. Herman and his new wife purchased the first in a number of sound housing investments. After numerous successes and promotions Herman left the security of IBM to enter into business manufacturing and selling Hang Gliders. This was in early 1970 and Herman was one in a handful manufacturing Hang Gliders or, technically listed as, Ultra Lights. Herman became the leader in technology and sales and soon was recognized by NASA who contracted "True Flight" for studies demonstrating the use of Hang Glider technology returning space capsules to earth after reentry and used by astronaut for reaching the surface of a distant planet from an orbital vehicle. Herman also contracted as a trainer for NASA technical employees in the use of Ultra lights. This association continued through the 1970 time period and terminated when the project was canceled in 1978. Herman finally tired of the business without the excitement NASA and sold. It was about this time that Herman's wife, Vian, was involved in a life threatening hit-run accident and who, after years of therapy, still suffers pain associated with that accident. Herman called in one of his chips and was hired by Memorex from where he retired in 1993. By this time Herman and Vian had traded up to a gated tri-level stand alone 3000 sq.ft. condo snuggled in the Almaden Valley. The place every person about to retire would be pleased with, but knowing Herman he could not let well enough alone. The first thing he did was reroute the creek that flowed through the property. Then added a full balcony on two levels over looking the back property creek and a hand full of giant oaks and in general a very picturesque scene. That is not the end but we are getting close. Herman and Vian had the opportunity to visit Herman's brother who was living near the California / Oregon border and found so much relief from her illness while there, plans were made to investigate why. After much review and searching for the best location to gain maximum medical benefits, the area of Brooking Oregon was selected. The Rices gave their requirements to a local realtor, the property and location specs, returned to San Jose and hired an architect. Soon they had their property and guess what was near by? A small private Airport. The time frame was about 1994. The town of Brookings is very similar to Soquel, Capitola and Aptos all rolled into one. Building was active and quality contractors were in demand. Herman acted as the prime contractor and subcontracted pieces and chunks. However, Herman and Vian completed much of the work in between. The property location was in an up-scale neighborhood with mostly Doctors, Lawyers, Merchants and Chiefs with some retired professional sports folks thrown in. Herman and Vian's new home fit the neighborhood perfectly. The 5000 sq. ft. tri-level, vaulted ceilings, marble floors and counters with more bath rooms than the local City Hall. Construction plugged along and had reached a point that allowed Herman and Vian to move in and complete what was left at their leisure. It was now 1997 and Herman, who had been a smoker most of his adult life and quit in his later years, started losing weight. At first it was treated lightly. Herman was never a fat person. It did not take much more weight loss until Vian had Herman were in the car heading back to San Jose where medical facilities were better suited to meet the problem. It is now Christmas time 1997 and after many tests and consultation Herman was diagnosed with advanced lung cancer. Herman fought it tooth and nail with the help of his loving wife. Herman never returned to his castle in the sky and passed away the day he was transferred from his rented Campbell apartment that he and Vian called home to the Veteran Hospital in Menlo Park, California. It is now June, 1998. Herman was 66. ( Feb 2003)

Tom Richards, 8667 Mariners Dr. #63, Stockton, CA 95219-4512 (Nov 2005) Email: richards4@msn.com At my first (freshman) school dance, Margie Livingston, head cheer leader, took the time to teach me to move around on the dance floor ... dancing. It was the only time that I was held close to a senior. Felt good! Thanks Margie. You might find it surprising that I survived life after "SeeTuCrabs." I no longer sit in orchards drinking beer with my classmates and seeing Mighty Joe Young. (Inside joke) The girls used to call me conceited, because in reality I was very shy; a lot of which was because of the space in my front teeth. I am no longer shy or conceited and no longer concerned about the space because I still have healthy teeth with no cavities. My interests during high school were sports, music, ROTC and hanging out with friends. Thinking back to graduation, what I wanted to do in the future was go to college to continue my education and find someone to marry and start a family. But, because of the Korean War, most of us went into the military. I went into the Air Force, then to college and then to work. The teacher who most influenced my life was Mr. Frank Triena, music teacher. Totally against my will, he forced me to get on stage to sing to the assembly ("Blue Moon"). Wow was that ever scary? ... and then to many parent/teacher, etc. groups. After the service, at San Jose State I majored in music. I really owe him a lot for how he helped me develop later in life.
While at San Jose State, I took a part time job at a small advertising agency, changed my major to advertising and later ended up owning the agency. Had my own ad agency for many years in the San Jose area. Probably most memorable client was Hy Weisel's Proud Homes. One of the home projects was the "Yum Yum Series". 'Had lots of fun with that.
In 1961 I finally got trapped into a marriage that lasted for 24 1/2 years (got out just in time). She had two girls from her previous marriage and we had another girl together.
We lived for many years in Almaden Country Club (then Los Gatos foothills), traveling the world in style, in a position to retire whenever. Accidentally got into the electronics business. Made a lot of money at that. You know the old story, had a partner that did me in. Then the divorce because my partner wanted my wife as well as my money. He should have just asked me for her. That was 1985
It left me terribly in debt ... spent the next twelve years paying. What a feeling to finally get the IRS and the State out of the way.
As soon as I got clear I moved to Stockton where real estate was far below market. Here I come in my old Mercedes (with pink slip), newly acquired Social Security checks, AND good credit but, no money. Carlton Sheets' course paid off. 'Bought investment property with "no money down" and got healthy again.
In school I thought that tennis was sissy sport, but it is now a big part of my life. 'Not really good at it, but it gives a tremendous amount of enjoyment. Also go dancing at least twice a week. At one time I tried dancing at Fred Astaire, but it was a little too much for my pocketbook at the time.
Life is good. I am one happy fellow. My goal is to eventually get all of this in order and move to Mazatlan.
Marriage? Still waiting for the right one, but I guess time is getting short, isn't it? (Sep 2002) "For years I have been talking about moving to Mexico. Now I've found it! ... It's El Dorado Ranch, Baja's largest and most beautiful seaside resort development."
(Click
Tom
to ask for details)
(Nov 2005)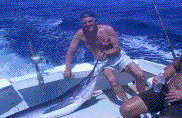 Yes that's me. See our web site at www.estrelladelmar.com or email me for more details on our Mexico resort, Eltrella Del Mar (May 2008))

Margaret Robertson (Ciraulo) , lives with her husband, Tony, on Deerpath Road, Saratoga, CA 95070. Email: tmcir@yahoo.com. We have two girls, one boy and 10 (plus two in-law) grandchildren. Tony (who was known as Anthony when he attended Cambrian Grammar and Campbell High), my highschool sweetheart, and I have been married 51 and a half years. Our first four years of marriage were in the Air Force and we lived in Ogden, UT; San Antonio, TX and Iwakuni, Japan. Our second child, a daughter, was born in Japan. After Tony got out of the military, he went to college and obtained an Engineering degree while I stayed home and watched our two toddlers. While in college, he was working 30 hours a week to support us in addition to building our first home in Saratoga. (We bought a lot in Saratoga before we married, innocent of how land prices would rise in the future. Needless to say, it was not an unwise move.) The years in college were hard years, but gave us an appreciation of what hard work can accomplish. At the end of Tony's college years, our last child was born. I have always been a stay-at-home mom and am thankful that I was able to do this. The years of raising my children was such a joy. In the early 70's we wanted to get more land and moved up into the Santa Cruz mountains above Saratoga on 16 acres, selling off some and retaining a five-acre parcel. Our home is off SR-9, about five miles from the Village of Saratoga. Tony and I also built this home and many years ago, it was featured in the San Jose Mercury-News as "Heaven is a Hilltop Home." Tony and I love to garden; he, fruit trees (20 of them) and vegetables in Summer; and me, flowers. We are fortunate to be up on a knoll where we get lots of sun so growing is easier than in other mountain sites. Our children went to college, had careers (son-Engineer, daughters - Teachers) and married. I began to do oil painting. I was in a gallery for some years and really had a lot of fun ... did quite a bit of selling at the beginning but had to stop because of our daughter-in-law's long illness. Tony loves to play tennis. He retired after working as an engineer with IBM for 30 years and now plays six mornings each week. He is on two USTA tennis teams. I have never gotten into sports of any kind but do walk three miles a day at a brisk pace, doing the three miles in 45 minutes. I am sure that we have not traveled as much as many of our class mates but we have been to Europe three times and done the Greek Isles ending up in Istanbul. We have done a number of driving trips here in the States as well as doing the Canadian Rockies. Our whole family has been very active in the Church over these past many years. We helped start and have been a part of Saratoga Presbyterian Church for more than 35 years. Tony and I have taught many classes. We love working with young couples. I teach a Young Moms Parenting class (also have two stay-at-home dads in the class....times have changed!) twice a month. I also have been a Women's Retreat speaker as well as speak at many women's functions. I average about three speaking engagements a year. We spend a lot of time with our family. Two live within the Bay Area and one in Southern California. Tony is a handy man and is always helping repair or fix something in one of our children's homes. We also have the grandchildren a lot though as they are getting older, that is getting less and less. Our whole family has spent a vacation together every year for the past sixteen years. This year, there were 22 of us. To say the least, it was a big job to feed the crew; mostly all teenagers or older. But it is worth it to see the cousins enjoying each other so much. It is important to build memories. The ages of the grandchildren are now from 26 down to nine; six girls and four boys, now adding a granddaughter-in-law and a grandson-in-law. Our children gave us an unbelievable 50th anniversary. Not a big blowout but a memorable weekend of sharing and fun together. We are so thankful to God for our family and for the blessings of our years together as well as good health. We would love to attend a reunion and I will help if possible. (Aug 2002)

Ray Robinson, lives on Medina Way in West Palm Beach, FL. Email: ray_robinson@pba.edu After the army and my undergraduate degree at SJS, I have lived in the east most of the time. It would be great to touch base with some of the graduates of the Class of 1950. (Mar 2007) Following a summer working in the fruit in the place Santa Clara Valley (I really miss those fruit trees), I enrolled as a freshman music major at San José State in September 1950 (without the cheap tuition it is doubtful if I would have been able to afford a college education). After two and one-half-years of college life, Uncle Sam came beckoning; I was drafted into the United States Army in March 1953, where I took basic training at Fort Ord (60 miles from home). The Korean War ended during my sixteen week basic training, so my military assignment was to stay in Monterey for the next 20 months and train troops until my honorable discharge was conferred in March 1955. The Monterey Peninsula was a wonderful place to spend my army years. The most significant event during this period of military service was my marriage on March 12, 1954 to Ruth Aleen Chamberlain, a graduate of San José High School and then a student at San José State. I graduated from San José State in the summer of 1956. (We celebrated our 53rd anniversary last week! Ed Note: March 12, 2007).
With the BA degree in one hand, and the GI bill in the other, Ruth and I (and, of course, our one-year-old daughter Cindy, who was born in 1955) left immediately for Indiana University, where I enrolled as a graduate student in the fall of 1956. Our two oldest sons Greg and Dave were born in Indiana while we were living in Bloomington]. I completed the requirements for the master of music degree two years later, but stayed on for a third year at IU to fill a faculty member's sabbatical leave and to complete the residency requirement for the doctorate which was ultimately conferred in 1969.
My first full-time college teaching position was an appointment at Cascade College (Portland, Oregon) in 1959, where I taught music courses, conducted the college choir, and played the viola in the professional Portland Symphony Orchestra. After four years in Oregon, we moved to Baltimore, Maryland, where I was appointed Dean at the Peabody Institute of the City of Baltimore, a professional school of music that was founded in 1857. Six years watching the Orioles and Colts play was a great treat, but alas, another opportunity surfaced: the Presidency of Westminster Choir College in Princeton, New Jersey (1969). We lived and worked in that Ivy League town until 1987. In the meantime, our two youngest sons - Brent and Jeff - were born in San Jose and Baltimore respectively. Eventually all five of our children attended and graduated from Princeton High School and, in the intervening years all earned college degrees. Cindy and Brent went on to complete master's degrees.
A special international phase in our lives began with sabbatical leaves to Austria (1976-77) and then in Cambridge, England (1987-89), where I was appointed Visiting Fellow at Wolfson College, one of the thirty-one Cambridge colleges, and served as conductor of the Wolfson College Choir (1987-89). The opportunity of doing musical research in Europe led to a long-time interest in specific composers in Germany (Felix Mendelssohn) and Poland (Krzysztof Penderecki). We have made about eighty trips to Europe and two to China. The interest in scholarly work continues to this day.
We returned to the United States in the summer of 1989 to accept an appointment as Distinguished Professor of Choral Studies at Palm Beach Atlantic University in West Palm Beach, Florida. My task there was to create and build a choral program at the University. I still hold professorial rank in at this university.
When I retired from full-time teaching in 2003, I was invited to serve as music director of the Palm Beach Symphony, a professional symphony orchestra that performs on the island of Palm Beach. I am just completing my third year in this post.
Our five children are pretty well scattered around the world: Cindy lives with her family in Columbia, South Carolina; Greg and David reside with their respective families in Boulder, Colorado; Brent and his family live in Hong Kong; and Jeff, our youngest, lives with his family in London, England. We are blessed to have a total of twelve grand children.
That's about it! Fifty-seven years have gone by pretty fast.(Mar 2007)
In October, 2007, I was awarded the Medal of Merit by the Academy of Music in Krackow, Poland Click
here
to view citation.


Ron Roeske
, lives in Oregon. (Aug 2002) Ron passed away January 27, 2007

Anthony Russo, lives with his wife, Elva, on Nautilus Drive, San Jose, CA 95128 Email: Grammy2402@aol.com After CUHS San Jose State was my next stop. Elva and I met at SJS in 1952. She quit school; took a job in Flight Research at NASA; and we were married. We just celebrated our 50th last January. Elva's aptitude for math helped her get the job at NASA; that enabled me to stay in school. Richard, our first child was born nearly two years later. I entered the army the next month; not my choice. After basic training, I was sent to Chicago to an anti-aircraft site. Six months later I was shipped to Korea. Elva returned to live with her parents in San Bruno. Janiece, our second child was born while I was away. Upon my discharge in 1957, I started teaching at Hoover Jr. High. Seven years later I was offered the position of Assistant Principal of Union Middle School in Cambrian Park. Our third child Ronna was born in 1962. Shortly thereafter I had the good fortune to become a principal in the Oak Grove Elementary School District…( IBM /Blossom Hill area…22 schools and 15,000 students at its peak). After serving in other administrative positions, including Deputy Superintendent in Personnel, I was eventually appointed as Superintendent-- the position from which I retired in 1992. Along the way I acquired an MA and then an earned Doctorate in Management in l977; and learned to ski in my forties. I also taught at SJS from time to time. Rather than reorganize our garage following "retirement", I accepted positions as Interim Superintendent and Fiscal Advisor in various districts; also enjoyed one year as the Executive Vice-President of a software company. Finally promised Elva that I would no longer work (wink). We enjoy time at Pinecrest in the Sierras: fishing, skiing, walking. Travel: Camping in many states while children were growing up; the travel trailer was traded in for Cruises (Mediterranean, North Sea, Alaska, Panama Canal, and San Juan Islands) Other travel included Turkey, Italy, Mexico, Hawaii, Chile, Argentina and our beloved USA. In the meantime Elva had returned to school to complete her BA; worked part-time to be a stay- at- home Mom as necessary. At nearly 50 years of age, she returned to college again, this time for a degree in computer science. She worked as a programmer for the next 15years. The children: Richard lives in Seattle, and is a Science Fiction writer; published many short stories in Sci Fi magazines and 6 novels. He was awarded the Phillip K. Dick Award twice…the latest for Ship of Fools which was also on the NYTimes "most notable sci fi book" list last year. Janiece lives in SJ and is the mother of our two granddaughters; she has an MA is in finance and does contract work in accounting in order to be home with the girls when they are home from school. Ronna, our 41 year old "baby"lives in Aptos, and works in SJ as a Senior PC designer for Celestica. NOTE: our appreciation to those who have done an incredible job of setting up the web site and organizing this reunion. Reading about my classmateshas been a fascinating experience. I discovered that one person has lived two blocks from us for the last 40 years!! Won't she be surprised when I knock on her door. (Feb 2003) Alum Rock Union School District renamed one of the schools as the Anthony P. Russo Academy (Sept. 3, 2007)
See something wrong? Want to add something?
Send email to:
Class1950@gmail.com